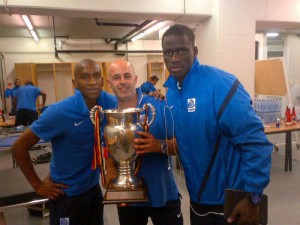 Anele Ngcongca has won a third winners medal in Belgium, after helping Racing Genk to win the Belgian Cup on Thursday night in front of some 30 000 of their fans in Brussels.
It is the second time that Ngcongca has lifted the trophy, after a success in 2009, and guarantees the club UEFA Europe League football next season at the very least.
But with the team still in the league title hunt, club chairman Herbert Houben wants them now fully focused on a vital clash with Anderlecht on Sunday.
Genk trail leaders Anderlecht by three points with three games to go.
Ngcongca is one of five Genk players left over from their last cup win in 2009. He also won the league two seasons ago and participated in the Champions League.