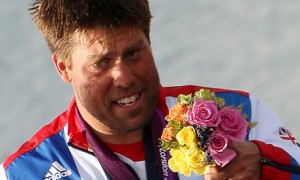 Olympic gold medallist Andrew Simpson has been killed after his yacht capsized in San Francisco Bay during training for the America's Cup.
The British Olympic sailor Andrew Simpson died on Thursday after his team's ultra-modern yacht capsized in the San Francisco bay and trapped him underwater during training for the America's cup.
The 72-foot Artemis catamaran tipped over at 1.15pm local time, plunging its 13-strong crew into the water and trapping Simpson under the vessel's platform for about 10 minutes.
Rescuers pulled Simpson, 36, into a support boat and an officer from the San Francisco police department's marine unit tried to resuscitate him. He was declared dead about 20 minutes later, said San Francisco fire chief Joanne Hayes-White.
Attempts were made to revive the champion in the water and on shore, but he was unable to be saved.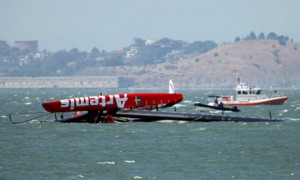 Simpson won a gold medal in the 2008 Beijing Olympics as a crew member in the star class, and he also took silver last year at the London Games.
"The entire team is devastated by what happened," said Artemis chief executive Paul Cayard, a sailing world champion and America's Cup veteran. "Our heartfelt condolences are with Andrew's wife and family." 
Simpson had won two Olympic medals, including a gold medal in Beijing in 2008 and silver in last year's Games in London, both in the Star class.
He was awarded an MBE in the 2009 New Year Honours list.
Born in Chertsey, Surrey, Simpson started sailing at the age of six with his father in Christchurch, Dorset, according to Tyler Sports Management.