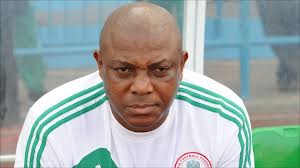 The coach of Nigeria revealed that he convened a new player in the list on behalf of the 4th day of the 2014 Brazil World Cup playoffs. It is Joseph Akpala who will take the place of Emmanuel Emenike injured.
Spartak Moscow player, top scorer in the recent African Cup of Nations played in Africa experienced a relapse. He was injured during the semifinals against Mali.
Joseph Akpala is not the only convened by the Nigerian coach champion of the Afcon.
"Joseph Akpala and Michael Eneramo are two players who I called to replace Emanuel Emenike" said the former coach of Togo and Mali, before adding that among the two, "one will take the place of Emenike ".
At 51 years, Keshi ignored the Everton player, Victor Anichebe author of 24 matches, including six goals. He thinks to call him for the upcoming games. Stephan Keshi will return in the capital of Nigeria on Monday from the United States where he is in vacation with his family.
Nigeria must play a friendly against Mexico on May 31 at Houston before building its base in Germany for an internship as a prelude to the 4th and 5th days respectively against Kenya in Nairobi and Namibia.