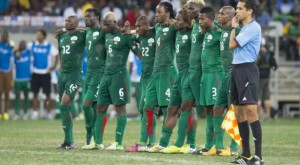 Second in Group E of the qualifying in Africa for the Brazilian World Cup at six lengths from the Red Devils of Congo, the Stallions of Burkina Faso have stopped timing for the next days.
The African runners-up will take internship from May 27 to June 17. A gathering that will be in two phases: in Ouagadougou and outside Burkina Faso. This course will be punctuated by a friendly match against the Desert Foxes in Blida (Algeria), June 2, before the return round of the World 2014 qualifying .
In addition to his trouble with the law, Paul Put will also deal with the absence of Alain Traoré (re-injured) for the qualifying matches against the Mena of Niger (equal points) on June 9 in Niamey and June 15 in Pointe Noire against the leader of the group.
No misstep is allowed to the teammates Jonathan Pitroipa, if they want access to the third round of the playoffs in Africa for the World Cup 2014.