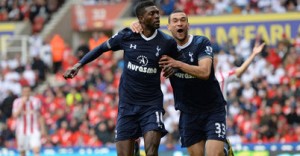 Another goal for Emmanuel Adebayor. And he can actually be very important in the race for the Champions League.
Allowing his team to get three points against Stoke City on Sunday (2-1), the Togolese makes the Spurs move to the fourth place ahead of Arsenal which plays Tuesday against Wigan.
This is the fifth league goal for Adebayor, who had already scored against Chelsea Wednesday (here again a wonderful goal).
Against the Potters, the former Gunner has received a pass from Dempsey.
Here is the goal video
[youtube]http://www.youtube.com/watch?feature=player_embedded&v=1A1jhdAdJHE[/youtube]