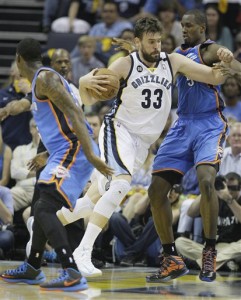 After the victory at Chesapeake Energy Arena in the previous match, Memphis confirms in its first match in its den. Despite a good start of the Thunder, the Grizzlles, wins 87-81 and leads the series 2 wins to 1.
In the wake of Kevin Durant 25 points, 11 rebounds, Oklahoma City more alert, took the lead at the halftime 44-45.
But the Thunder will pay for its clumsiness to shots (36%), in the image of Serge Ibaka (13pts, 10rbds) who misses two dunks and Durant missing two throws on the money-time (39 seconds to the end), whereas he displays 91% this exercise.
The Grizzlies claws out after the break with their inner Marc Gasol (20pts), who provided a key to his franchise to a buzzer minute lead after a crossover (83-81). While Kevin Durant and co are feeling the pinch of effort, Memphis imposes its second consecutive win in Game 3 of this series.
It's difficult for the Western Conference champion who must find his peps for the next game which will be played in the room of Memphis.