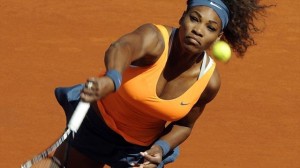 Serena Williams has not experienced the same difficulty as in the semi-final to keep the title of the WTA tournament in Madrid. The World No. 1 swept her runner Maria Sharapova in the final played on Sunday in straight sets, 6/1, 6/4.
From the outset, the American takes the two services the Russian and won the first set in 32 minutes. In the second set, the scenario is reversed, sharapova break Serena. But the youngest of the Williams sisters back in a tie for sixth game (3-3). At 5-4, she takes again the service of her opponent, 6/4 for a win (6/1, 6/4) in 1hr 17.
It is the 50th career title on the WTA Tour for Serena Williams. She also keeps her position as the World No. 1 of the circuit.