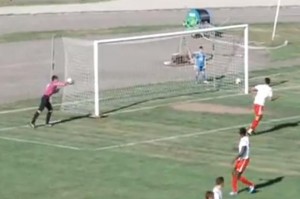 Radu Mitu, 18 years, was playing his first game as a holder for Ursidos Milsami in Moldova. His team was facing Rapid Ghidighici.
When he had just recovered an opponent hitting, Mitu tries to revive quickly by hand.
Unfortunately, the ball leaves his gloves and goes into his own net. Disaster.
But this is not all since late in the game, he is also at the origin of the winning goal of the opposing team. A Day without, should we say.
[youtube]http://youtu.be/jhiYIW1dKDw[/youtube]