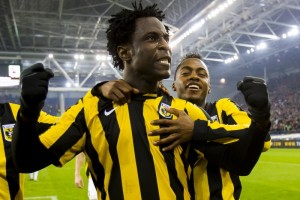 For what should be his last season in the Netherlands, Wilfried Bony made it big. The Ivorian striker of Vitesse Arheim (4th) finished the season in Eredivisie on top of the ranking of the top scorers with 31 achievements in 32 games. This total includes two triplets (against Heerenveen and Heracles) and a series of 15 goals in 10 consecutive games.
At 24 years, Bony should not do one more season in the Netherlands. Coveted, he has already declared his love for England and the Premier League where West Ham is in pole position to enlist.
The Elephant has scored 51 goals in 66 games since his arrival at Vitesse in 2011 from Sparta Prague in the Czech Republic. His team-mate Gervinho is a big fan.