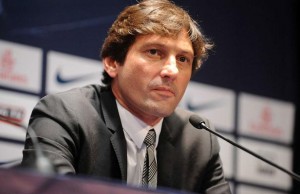 This is a report from Le Parisien. The French daily informed on Monday that the sporting director of PSG was hospitalized when he arrived in Paris on the night of Sunday to Monday following a seizure. No details about his condition at present neither the cause of the malaise.
Leonardo knows the end of a difficult season. Last Sunday, he shoved the referee of the match against Valenciennes in protest against his decisions. He has since been suspended as a precautionary measure by the Disciplinary Committee of the LFP.
Champion after Sunday's 1-0 victory over Lyon, the Parisians flew directly to land in Paris around 3.30am. Before an altercation took place between the Brazilian and Swedish Ibrahimovic. The party with the supporters continued at a fancy restaurant in the capital town of France.
Other celebrations are planned on Monday, with the trophy and a parade on the Seine.