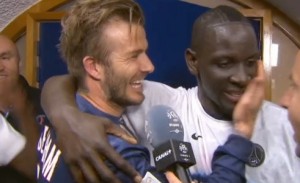 It was ecstasy at Gerland in the Parisian camp after the final whistle of the match Lyon-PSG (0-1) on Sunday at the close of the 36th day of League 1.
And because the Paris Saint-Germain validated itsthird championship of France title. In the crowd of the coronation the English star David Beckham shows off a different side of him.
The Spice Boy, next Mamadou Sakho during the interview, slipped a word in Wolof (Senegalese dialect)! Video.
[youtube]http://youtu.be/J4xhEIuHPTM[/youtube]