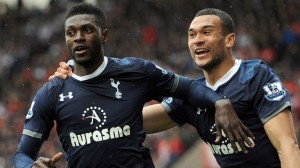 Another two major days and all five major leagues will be completed. For now, we make accounts for the clubs in search of maintenance while enjoying some trophies. Focus on African performance in the weekend.
Germany
No African scorers.
England
Without scoring, he nevertheless greatly contributed to the victory in the FA Cup final of Wigan against Manchester City (1-0). Aruna Kone has taken over his compatriots Kolo and Yaya Toure and Abdul Razak. Remains for him to ensure on Tuesday against Arsenal  the maintaining of the Premier League. It is not earned.
Yet decisive. Emmanuel Adebayor finds great shape at the right time for Tottenham. Scorer and passer against Chelsea in the week, the Togolese did it again Sunday against Stoke (2-1). A very important goal that propelled the Spurs to the 4th provisional place synonymous with dams for the Champions League.
Italy
Saphir Taider was honored in a 2-0 victory over Bologna Parma. The Algerian scored the first goal of the game.
France
There are many African scorers in Bordeaux-Nancy (3-2). A stunning match (see all the goals video here). The Gabonese Biyogho Poko scored his first League 1 goal by opening the scoring. He  is imitated by the Franco-Senegalese Henri Saivet. Nancy returns in the second half to score with the Ivorian Lossémy Karaboue then the Senegalese Salif Sane. But late in the game, the Malian Cheikh Diabate gives the victory to Bordeaux.
Salomon Kalou is accustomed to his a regular weekly horizon round. He finished in addition by scoring. Another doubled for the Ivorian who scored twice in the 3-0 win of Lille against Reims.
Marseille can say thank you to its Ghanaian Andre Ayew. With his double, Marseille has consolidated its place on the podium in Ligue 1 and will play in the Champions League next season.
He scored the goal of the season in Ligue 1 this season. Saber Khlifa was like Sunday's match between Evian TG and Nice (4-0). The Tunisian scored twice, the second of a lobe at 64m. A masterpiece to review. The Ghanaian Mohammed Rabiu also scored in this section for the Savoyards.
There are goals that account for butter. This is the case of one of Burkina Faso Jonathan Pitroipa Saturday at Valenciennes, Rennes. Despite his achievement, his team was beaten 4-1.
Kurt Zouma did not prevent the defeat of Lorient Saint-Etienne (1-3). Franco-Central nevertheless scored a goal.
Nigerian John Utaka can take solace only with his goal for Montpellier. To finish his team lost 3-1 to Bastia.
Spain
No African scorers.