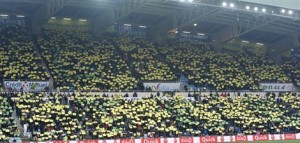 FC Nantes has almost a foot in League 1. Second in the ranking, Nantes can validate the rise as early as next day.
The Togolese Serge Gakpé and his teammates need a win over Sedan on Friday. The Nante fans want to give everything to review Birama Touré, Ismael Keita, Saad Trabelsi, Koffi Djidji, Papy Djilobodji or Ahmed Madouni in the elite next season after four purgatory seasons in League 2.
The duel between the Canaries and the Ardennes Boars should be played closed wickets at La Beaujoire. 36,000 tickets have already been sold for this match.
"On Tuesday morning, 5,000 tickets were sold in two hours," explains Luc Delatour, director of the club operations. "We can live a beautiful evening that can be turned into a climax, the year of the 70th anniversary of the club, but I would first of all pledge the public especially not to invade the lawn … Even in case of success and rising," he continued.
There are still places and 37 000 people are awaited.