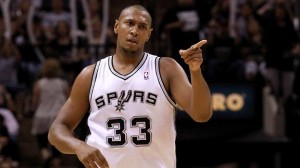 Captain of the basketball team of France, Boris Diaw is a player of the San Antonio Suprs, NBA franchise, where he evolves with his compatriots Tony Parker and Nando Colo.
Born on April 16, 1982 in Cormeilles-Parisis, Boris Diaw-Riffiod, from his full name, is of Senegalese origin.
He started basketball at age 13 with the U.S. Talence (1995-1997). He is from a family of sports, mostly basketball, (his mother, Elizabeth Riffiod, is considered one of the best hubs in the history of French women's basketball. His father, Issa Diaw, Original of Senegal practiced jump during his studies).
Versatile player, he has the particularity to evolve each of the five positions of basketball, which is rare in professional basketball, hence the nickname 3D.
Journey
After the U.S. Talence Boris Diaw got remarked  with JSA Bordeaux (1997-1998), before joining the Federal Centre of basketball, in 1998 in Paris. He discovered the Pro A in Pau-Orthez in 2001. Nominated Rookie of the Year, he also illustrates by winning the dunk challenge at the All-Star Game. 21th pick in the draft in 2003 (Atlanta Hawks), Babac (2.03 m 106kg) is designated the second best player of Euro 2005 (13.7 points, 3.4 assists) behind Dirk Nowitzki. The following year, he was appointed captain of the Blues. The same year, he was nominated MIP (NBA Player NBA Most Improved). During the lockout in the NBA in 2011, he joined the JSA Bordeaux club of which he is also president since June 2010. In 2012, he competed in the Olympics in London. The Bleus were eliminated in the quarterfinals by Spain.
Career
2000-2003: Pau-Orthez
2003-2008: Phoenix Suns
2008-2012: Charlotte Bobcats
2011 JSA Bordeaux
2012 -: Suprs San Antonio
Awards
A Club Pro
Champion of France (2001 and 2003) with Pau-Orthez.
Winner of the Coupe de France (2002 and 2003) with Pau-Orthez.
As Week (2003) with Pau-Orthez.
NBA
Finalist in the Western Conference NBA in 2006 with the Phoenix Suns.
Champion of the Southwest Division in 2012 and 2013 with the San Antonio Spurs.
National Team
2000 European Junior Champion in Croatia
2002: Bronze medal at the European Championships in Lithuania Hopes
2005: Bronze medal at the European Championship in Serbia and Montenegro
2011: Silver medal at the European Championships in Lithuania
Personal Awards
2006: NBA's most advanced player (MIP)
2005: Elected in five major European Championship of Basketball
Awarded the Robert Busnel medal