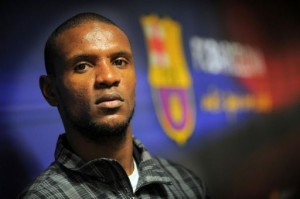 The story between Eric Abidal and FC Barcelona is probably drawing to a close. The contract of the Martinique ends in June. According to L'Equipe, Barca had offered the Caribbean, the ambassador status instead of renewing his contract as a player.
The former international tricolor would not be interested in this proposal. The French defender seems to have ambitions.
The former Lyon still wants to continue with the crampons and trample the grass of football. Abidal was back from almost a year to the competition after undergoing a liver transplant due to cancer. In the columns of L'Equipe, the French said he is not ready to stop his playing career for the meantime.
"I have a contract that ends in June, but I fought back, I want to keep playing and there's only me who can decide what I will do (…) I want to finish my career here (in Barcelona), but if you fire me … Well, you're not going to fire me, "said the ex-Lyonnais.