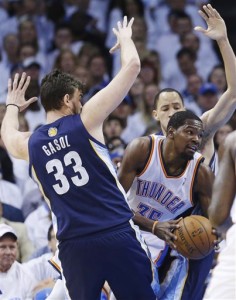 Certainly, there will be no explanation for James During this season in the NBA finals.
If the Heat of LeBron James has yet to play a series before hoping to defend his title, the adventure ends in contrast for the Thunder of Kevin Durant before the final round of the Western Conference.
The defending vice champion was bled to death by the Grizzlies. Missing Russell absent and KD limited to 5/21 in shots (21pts) and 7 assists, Memphis wins the Game 5, 84-88, and ended the series of the semi-finals on four victories against 1.
The Grizzlies qualifies for their first conference finals thanks to a Zach Randolph of gala (28pts, 14pts).
Their opponent in the final of the Western Conference will be known after the series between Suprs and Warriors. Texans lead 3 wins to 2.