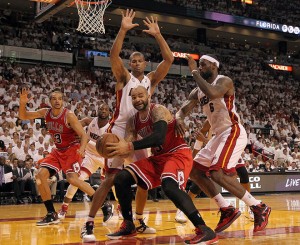 Miami will play its third successive conference finals. The Heat composted its ticket to the final of the East by winning Game 5 of the series of semi-finals of the playoffs against the Bulls, 94-91.
Despite a Carlos Boozer with 26 pt and 14 rebounds, and Nate Robinson who found his marksmanship (21pts), Chicago decreased (editor's note, Luol Deng, Kirk Hinrich and Derrick Rose did not play), and whatever combative he is will be merely an illusion of Game 1. "The difference between us and them? Health. For me, this is the most important thing, "laments Tom Thibodeau.
Of these absences, Erik Spoelstra said: "It's a shame … I think everyone would like to see both teams in top shape" But the Heat coach remains objective. "(…) As competitors, we had a more important goal, and there is no mercy to feel. We take care of our business, we survive, and advance. But we all know they went through incredible obstacles. "
After scares with more than 10 points behind in the third quarter, LeBron James (23pts, 7pts and 8 wt)and his buddies of the Big Three (Chris Bosh [12pts, 7rbds] Dwayne Wade [18pts, 5rdbs st 6pds]) were back in the game and stop the serie 5.
The defending champion got imposed to 4 wins to 1, and awaits its opponent of the final between Indiana and New York. Advantage for the Pacers leading 3-1.