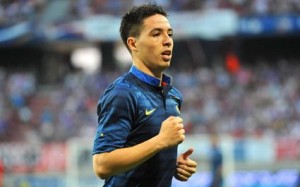 Dismissed from the group of France after Euro 2012, Samir Nasri hopes of a comeback.
The midfielder of Manchester City, who found time to play in the Skyblues expects Didier Deschamps to recall him in Blues for the June trip in South America. "I said in the few interviews that I've done it, the team of France has always been important for me. When you a football player and you tasted the France team, the one who says he does no longer want to play, he is a liar, "said the former Marseille after a charity match organized by Marouane Chamakh.
"We'll see tomorrow (Thursday), hoping to be there [editor's note, the coach of the France team must release his list of invited players at 12h UT] and if I am not there, it is not the end of the world. We will try to work hard next season to integrate the group of France, "he says.
Despite the fact that they have the same agent, Nasri has no special relationship with the coach of the Blues, "I have not had direct or indirect contact with Didier Deschamps. We're big boys, we do not need that. If he wants to pick me, he will select me and if he wants a tune with me, he will. "
A few months ago, Didier Deschamps explained that the midfielder was selectable, but had to wait for the right moment. This moment has arrived? We'll know from 12h UT.