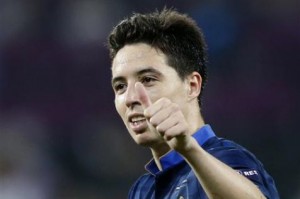 Samir Nasri in the group of players summoned by Didier Deschamps for the June trip of the Blues.
The coach of the France team ended the doubts of the midfielder of Manchester City. "The most important criterion is the competitiveness. It's been a few weeks since he has become competitive with the club, so for me, he becomes selectable, explained Didier Deschamps. The misdemeanors he committed, no one can erase them. "
Dismissed from the Blues after Euro 2012 for a misdemeanor, the Franco-Algerian, has always maintained his love for the team of France and hoped for a return to the Blue House.
A list of 23 players without Patrice Evra, was released for the tour in South America.