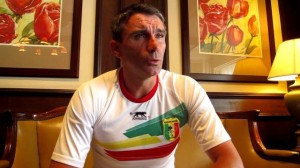 To believe the official Facebook page of the Kamalondo club, Patrice Carteron is in negotiations to take over the club Tout Puissant Mazembe.
The French coach was seen on Sunday at the Lubumbashi stadium in companion with Moses Katumbi, president of TPM. It was during the AFC Cup match between Ravens and Liga Muçulmana of Mozambique.
According to the Congolese club, Patrice Carteron "seems to be the number one candidate to succeed Lamine Ndiaye as head coach." The current coach of Mali could therefore leave his position at the head of the Eagles. This also seems unlikely while for his first experience with a selection in Africa, the former coach of Dijon has managed to snag the bronze medal at the 2013 Afcon.
To be continued…