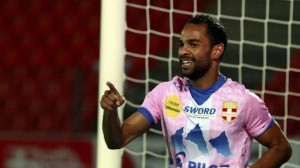 He is the best Tunisian striker of the time. Saber Khlifa now splashes all weekends the championship of France in his class. And with exceptional goals.
A week after scoring by a lobe of 64 m and Nice and being nominated for the UNFP trophies, the player of Evian TG did it again Saturday in the penultimate day of League 1.
He opened the scoring in the first minute against Valenciennes a beautiful curling shot, and then delivers an assist for his teammate Ehret for the 2-0 victory against Savoyards.
With this performance, Evian TG is sure to player in Ligue 1 next season. Still, the transfer window will be very hectic for Saber Khlifa.