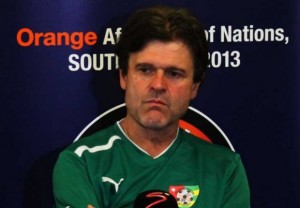 This is what we learned early Friday evening, internal evening FTF (Togolese Football Federation). Unspecified. But since Saturday, we know a little more about this new case that threatens to undermine the Hawks Nest.
Didier Six would be on strike and threats the local governing body of football to leave. The reason for this umpteenth mess between the coach of Togo and his employer is a bill of 100,000 Euros.
According to information, Six allegedly brandished to the FTF a bill of € 100,000, for his surveys in Europe to meet the Togolese internationals. The French coach has also given an ultimatum to the FTF (8 days) for the payment of this sum. Risk seeing him leave the ship. He whose future is dashed since the return from Afcon 2013.
This, in less than a month of an upcoming playoff game of the 2014 World Cup. Togo faces on June 9 Cameroon. And the least we can say is that we are far from a serenity in the Hawks Nest. No list of summons has yet been presented to the press and very little information is circulating on the preparation of this meeting.
One recalls that before the Afcon 2013, Didier Six had threatened to resign after his emoluments unresolved. Since the divorce was consummated between he and his employers on the one hand, and some executives of the selection on the other.