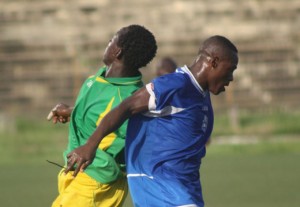 More boycott! Clubs in the elite division in Togo were all present at the second day of competition. The two clubs who have been absent on behalf of the first day, Etoile Filante and Koroki metete of Tchamba put away their weapons.
Indeed, during the second day of the championship, Etoile Filante, which claimed the preliminaries before the start of the championship was introduced in the field to play a 0-0 draw with Maranatha of Fiokpo at Oscar Anthony of Béniglato? The same thing for Koroki which received Foadan of Dapaong at Tchamba. Obviously everything seems fine for both clubs who had boycotted the first day.
Honorable mention for the defending champion Dyto who went to fight Unisport at Sokode (1-3). His heir, AS Douanes obtrudes before the Tchaoudjo Athletic Club (2-0). Same score for Kotoko of Lavié who defeated Agaza.
The problems that remain to be solved are related to referees. They boycotted the technical meetings before the begining of the meetings of the second day. The men in black are demanding their match bonus of the first day and wage increase.