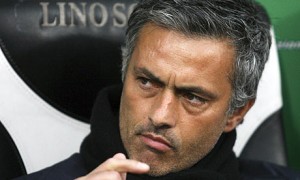 As Africa Top Sports.com has reported, the president of Real Madrid, Florentino Perez, holds a conference at the Santiago Bernabéu stadium. He still has two matches to lead. He should join chelsea.
And he has confirmed the departure of the coach Jose Mourinho.
Cristiano Ronaldo had blasted the champagne! – They almost came to blows!
Remains to be seen who will succeed him: Football fans want to know if the ticket Carlo Ancelotti– Zinedine Zidane will land in June. Yesterday, the coach of PSG asked his officers to let him go, but they refuse!
Jose Mourinho will leave a poor record: a Spanish Cup in 2011, a Coupe d'Espagne in 2011-2012 and the Spanish Super Cup in 2012 .. Last week, however, he had laughed at the previous coaches … He also spoke this weekend of the worst season of his career!
"We cannot say that the season is poor, yet has estimated Florentino Pérez. Today, the Real is at the place where it should be. "
The president swears that he has not yet chosen a new coach: "We have no pre-contract with any coach. We will work in the coming days. "
Jose Mourinho led Chelsea between 2004 and 2007.
More news quickly