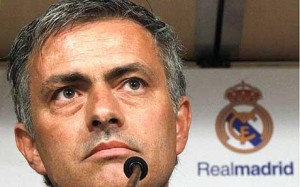 Recruited by Real Madrid for the decima (NDRL, 10th Champions League title), Jose Mourinho will leave the bench of the White House at the end of the season. The president of the Merengue, Florentino Perez has officially ended the secret on Monday.
After three seasons on the bench at Real, the Portuguese technician did not hand to the most brilliant club of Madrid its tenth Champions League trophy and went on a mixed record after another disappointment in the final of the King's Cup during the Madrid derby.
Africatopsports will repeat a few milestones in the journey of the "Special One" who ends his adventure at Real on the worst season of his career by his own admission.
May 29, 2010: After a historic triple made with Inter Milan (C1, Serie A and Coppa Italia), José Mourinho left the Serie A and Italy. He puts his suitcase at Real.
November 29, 2010: Arrived as the savior who will end the dominance of FC Barcelona in La Liga, he concedes their heaviest defeat against his great rival and Messi, 5-0 at Camp Nou. A Manita that allows Barça to retake control of the championship.
April 22, 2011: Left Behind in the league and eliminated in the Champions League, Real Madrid found solution to the Barcelona equation of Pep Guardiola in the final of the King's Cup. Thanks to a goal from Cristiano Ronaldo in extra time, Mourinho won his first title on the Madrid bench, saving his season.
August 17, 2011: He gets carried away during a general brawl between Real and Barca in stoppage time of the Spanish Supercup in thrusting his finger in the eye of Tito Vilanova, Pep Guardiola's assistant. For this act he assessed a two-game suspension applied only in case of a possible participation of Real Madrid in the Spanish Super Cup.
April 21, 2012: "Soft" blazes with his team in La Liga. Three days to the end of the season, Real leader with four points ahead went to Camp Nou. Real dominated the match that it won 2-1. The Merengue finished the season, champions of Spain, with a record total of 100 points with 107 goals.
April 24, 2013: As in previous seasons, the campaign of the Champions League stopped at the semi-finals. With a cloakroom divided, Special One sees his strategy  getting drown at Westfalenstadion against Dortmund (4-1). The objective of the Decima flew during the second leg. Despite the 2-0 victory, Real will watch the final on TV.
May 20, 2013: Florentino Perez announced the departure of Mourinho at the end of the season. The Portuguese coach is expected to rebound in England. He was announced in Chelsea, the club he led from June 2002 to September 2007.
Source Sport.fr.