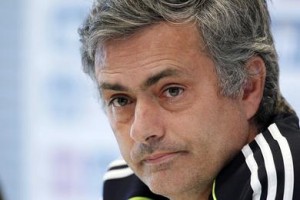 Jose Mourinho will leave Real Madrid at the end of the season. The history of the Portuguese coach and the Merengue did not last more than three years. On Monday, the president of the Casa Blanca Florentino Perez emphasized that "no one has removed the other" and that "this separation is the result of a mutual agreement."
But apparently, the Real Madrid dressing room seems to be split into  two about the future of the most mediatic  coach in the world football.
To believe the British press, some players wanted to see Jose Mourinho leave the head of the team. They did not hesitate to meet the club president to express their wishes.
According to the British Daily Mirror, on the one hand, the group of players, consisting of Karim Benzema, Angel Di Maria, Pepe, Mesut Ozil, Callejon, Higuain, Sergio Ramos and Iker Casillas wanted the departure of "The Special One". On the other hand, Mourinho however would have the support of Michael Essien, Xabi Alonso, Fabio Coentrao and Diego Lopez.