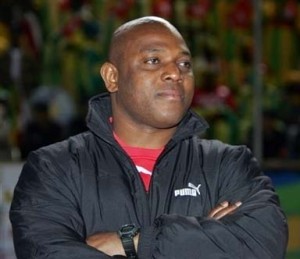 Stephen Keshi in this interview with Brazilian sports newspaper ESPORTES/Futebol, reveals his plans for the Super Eagles.
Nigeria is in Group B of the FIFA Confederations Cup, alongside very strong teams like Spain and Uruguay. Can you beat them and advance to the semifinal?
Football is not an exact science, anything can happen and we are not afraid of anyone. One example was the African Cup, when they believed they would win the Ivory Coast in the quarterfinals and were champions soon after. It's hard to pinpoint a favorite before the competition starts. My players are young and are very eager to face good opponents and that will make us evolve in the coming years. I bet we will have many fans during the Confederations Cup because Brazil has a very strong African culture. Who knows we may even feel at home.
What are the strengths of your team?
We played evenly, with everyone helping on the field. We're trying to get to know everyone and to have a rapport. With the Confederations Cup ahead, is the chance to have time to get together and fix certain aspects, such as the tactical part and stay more prepared for qualifying. This is crucial because usually we do not have time to train.
Why have you chosen too many young players in your squad?
Some players do not play to their utmost potentials both collectively and individually. Yet you cannot ignore their huge experience. So I tried to do a mix and we use the games of the Confederations Cup to show our potential, and represent Africa and make our country to be proud of us.
 Are there similarities between the Nigeria team that won the African Cup in 1994 and this year? Or are they totally different?.
Now we have a young team. At that time we had a team that had been together for about seven years or more. We are trying to put them together and try to bring the same spirit to this group.
Nigeria dominated African football in the second half of the 1990s, was Olympic champion and made good campaign in the 1994 and 1998 World Cups. In recent years Nigeria appears to be lagging behind Ivory Coast and Ghana. Why was this waste of space?
We had a good preparation and we won. Some coaches usually shy away from taking responsibilities of selecting home based players. Now we are looking for young players just to rebuild all that work. Face the problem that our players usually leave the country too early to play in Europe and get a different mindset.
There is a certain lack of identification with Nigeria and this requires having to do a lot of work in upgrading the players to the reality.
In the last African Cup,out of the 16 teams, only six indigenous coaches. Does this amount to lack of appreciation to local coaches?
I do not see it that way. Sometimes foreign managers are preferred, particularly in Europe, and I have nothing against it. But I want to see only quality professional coaches that can help African football to develop and this has not happened. I have in my coaching staff two former players of Nigeria in the World Cup. My assistant, Daniel Amokachi, goalkeeping trainer, Ike Shorunmu, are crucial. They have a lot of knowledge and passion for football to pass on to our young players on the importance of representing the country.
You qualified Togo for the World Cup in Germany and also coached the national team of Mali. What experience have you accumulated in these works?
Togo and Nigeria are similar in style of play and the profile of each player too. Mali is different to have a great influence on the French way of playing, likes to have the ball and exchanging many passes. The coach needs to understand the system as each set of players and want to trust in the potential of every player.