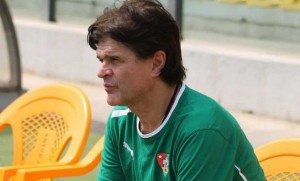 Again, the Togolese team is in a blur that dare not tell its name. Within one month to the World Cup qualifying matches in 2014, the atmosphere is just normal.
FTF (Togolese Football Federation) does not communicate on the preparations of its team. No news either from the coach.
While several selections have already unveiled their list of invitations to these meetings, no news from Didier Six. The only information that we unveiled last Saturday, was the one according to which the French coach claims nearly 100,000 Euros for arrears of wages, rent expenses, and charges for his surveys in Europe. A bill that also rejects the authorities.
As a result, the players are waiting. Contacted by Africa Top Sports, many of them have confirmed they have not yet received any summons for the games in June. No miracles to expect against Cameroon and Libya in June.
Already with 1 point in 3 games, the Hawks can say goodbye to their dream of the World Cup.