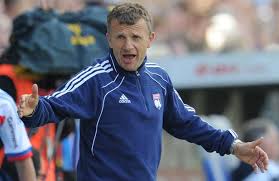 This is a first in Europe! A women's team will compete for the fourth consecutive time a final of Champions League. The Lyon female version confronts its counterpart of Wolfsburg in the final of Champions League.
Beforehand, the French women are the favorite of the match. But the coach of the Wolves, Patrices Lair does not want to do with statistics:
"It will be a tough final against a team that made the value of a doubled Cup and Championship in its country. They have a big group that is difficult to shake. It up to us to be at the top to reach the round. It's good to have the experience of major events, but we must remain vigilant. I do not think there will be a release. I have French internationals and foreigners who have the ability to handle large events. Our journey has been amazing and it will be difficult to do the same thing, but we only focus on the game ahead. It is a moment that can be extraordinary; we must absolutely win "assured Lair.
Several afro players have been announced for the final!