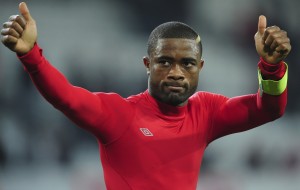 One day from the end of League 1, Lille struggle to hang the third qualifying spot for the preliminary round of the Champions League.
This weekend, the LOSC welcomes AS Saint-Etienne on behalf of the 38th and final day of the championship of France. This meeting could be the last in the north for Aurélien Chedjou. Cameroon is thus announced leaving.
Before leaving the north, the Indomitable Lion wishes to deliver the ultimate battle against Saint-Etienne. Despite the turmoil about his future, the defender of Danes prefers to focus on the game against the Greens. For the Cameroon international, the season is not over yet. He will deal with his next destination after the championship.
"We'll see after the last match. There are approaches, clubs call my agent but I want to be focus on the field. I never cheated and one should not disperse with his future, "he firmly said on RMC.