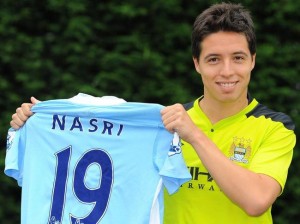 With the summer transfer window that is almost here, Samir Nasri does not see himsel elsewhere than at Manchester City.
Repeatedly announced on the departure, the Franco-Algerian hopes to continue the adventure with the Skyblues. Author of a lackluster season with Manchester City, the midfielder who has been recalled by Didier Deschamps to the France team intends to boost the upcoming season.
Nasri aims to seduce the new coach of the Citizens, Manuel Pellegrini called except a surprise to replace Roberto Mancini dismissed.
Asked by Sky Sports on the technician who currently leads Malaga, the French has not dried to praise him. The former Marseille is also back on his lackluster season. He also took the opportunity to discuss his future.
"I think he is a great manager. He proved it with Villarreal. At Real Madrid, too, even if he does not win the title, they finished with 96 points. And in Malaga he did an outstanding job, "said Samir Nasri.
"If it's him, it's a good choice. In the Champions League, he has always had success with Villarreal and Malaga. The way his teams play is always attractive and that is what we need for Manchester City. "
"All teams play attractive football and I think that's what people want to see when they pay to see a football game," he added.
"This season, we had high expectations. We have not done anything. We have to qualify for the Champions League, "said the former Marseille player.
"I'm really happy in Manchester. I am eager to start the next season, "he said to Goal UK.