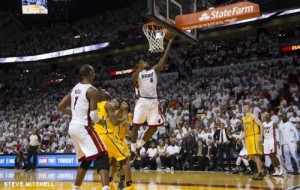 Miami can thank LeBron James. The back of the Heat allowed his franchise to avoid a defeat for the entry into the Eastern Conference finals against Indiana. With a layup at the buzzer registered by "King James", Miami wins Game 1, 103-102 (ap).
With his ninth triple-double in the playoffs, LeBron James (30pts, 10rbds and 10pds) was the principal architect of the victory of the Heat at the American Airlines Arena.
The Pacers have yet believed in a victory after the three free throws converted by Paul George (27 points) with two seconds remaining (102-101). The winger of Indiana could be a nightmare for the Floridians then he ripped the extension with an award-winning shooting at the buzzer of the fourth quarter.
But "The Chosen One" did not expect to start the series with a final defeat and puts Indiana in the ranks with the buzzer beater.
Author of 3 rebounds, Mahinmi (Indiana) did not succeed his shooting 0/2. The second game will take place on Friday still in the room of the Heat.