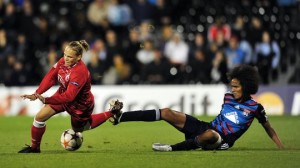 Born July 20, 1990 in Schoelcher(Martinique), Wendie Richard is a football player.
She evolves in defense in Lyon and France team of women's football. The Martinique is also valuable as a defender in attack.
Career:
Twice winner of the Champions League title with Lyon, she could go down in history on May 23 with a unique triplet.
But, before dominating the European women's football with Olympique Lyonnais, she learns the fundamental from the age of 7 years at Essor Préchotin in a male team. At 15, she joined the division overseas of Francis High School and continued her passion with Rapid C. Lorrain where she plays in weekend.
She fails for the entrance exam at the national training center and of Clairefontaine but is recovered by the OL. She joined the pro Lyon Group in July 2007 and won the championship. In October of the same year began his adventure in Blue (editor's note, with less than 19 years [from 2007 to 2009, 18 games]). She competes for Euro 2008 U19 and U20 World in Chile where France failed at the foot of the podium.
In March 2011, she played and won her first international match with the A against Switzerland (2-0). At the end of the season, she got her first continental title in Lyon in the Champions League with the first goal of the final against 1. FFC Turbine Potsdam (2-0). She achieves the triplet (league, Coupe de France and Champions League) the following season. With the Blues, she competed for 2012 London Olympics and ended the football tournament in fourth place.
Honours: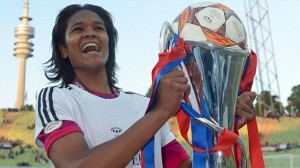 Champion of France 2007, 2008, 2009, 2010, 2011, 2012, and 2013
Coupe de France (France Challenge)
Winner: 2008 and 2012
Finalist: 2007
Champions League:
Winner: 2011 and 2012
Finalist: 2010