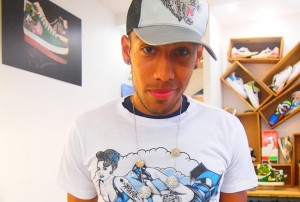 The president of the Saint-Etienne confirmed a few days ago that Pierre-Emerick Aubameyang has received a release. The Gabonese who is at the top of his game this season is seriously coveted by several European clubs. The summer transfer window may be very agitated around the St Etienne striker.
The performance of the Gabonese Panther this season has made him a much courted player. Anzhi Makhachkala's Samuel Eto'o just report for enlisting the services of striker of Greens.
According to the French sports daily L'Equipe, the Cameroonian striker Samuel Eto'o had made a phone call to Pierre-Emerick Aubameyang. The Indomitable Lion had offered to international Gabon to play with him in the Russian championship. To believe L'Equipe, the Cameroon star submitted to Etienne incredible proposal from the club, Anzhi Makhachkala. The Russian club would be willing to pay 15 million euros claimed by Saint-Etienne transfer and provide the attacker ASSE a salary of € 7 million per year and a signing bonus of 10 million euros.
"Such a proposal necessarily makes me think," says Aubameyang. Such amounts are enough to make your head spin. But Aubameyang seems to take a snuff a sporting choice for next season.