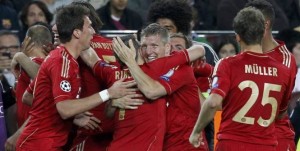 There is no two without three… Bayern ended a curse. After losing twice in the final of the Champions League in 2010 and 2012, Bayern Munich took revenge by beating Borussia Dortmund at Wembley by two goals to one.
This is the fifth title in its history after those of 1974, 1975, 1976 and 2001.
Already German champions, Bayern will soon also play the final of the German Cup on June 1 against Stuttgart. Quite a season for the club that can win all!
At the hour mark, Ribery launched Robben, whose shot Mandzukic turned into the first goal.
Gundogan has given hope to Yellow Dortmund by equalizing from a penalty spot (68th, 1-1).
At the 89th, Robben delivered Bayern! What a match!
[youtube]http://www.youtube.com/watch?feature=player_embedded&v=HO4qmXKShcM[/youtube]