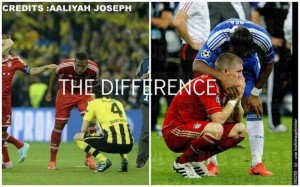 Saturday, Bayern Munich won its fifth title of European champion. But the defender Jerome Boateng has cracked a gesture to say the least not very classy.
After the final whistle, the German of Ghanaian origin has not hesitated to pay the head of his opponent Neven Subotic.
In fact, there is only revenge in this season as one of the confrontations between the two teams, Subotic did not hesitate to chamber Robben who had missed a penalty.
But this image contrasts with fair play shown by the Ivorian Didier Drogba in the same circumstances last year. Hero of a final which saw Chelsea win over Bayern, Drogba has comforted his opponents crying on the ground (here with Schweinsteiger).