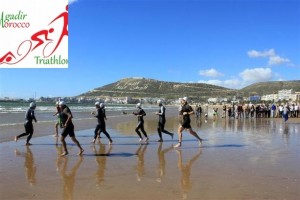 They were about 400 triathletes (professionals and amateurs of different categories) yesterday in Agadir (Morocco) for the 3rd Triathlon Agadir Morocco.
This event, initiated by the Royal Moroccan Federation of Sports for All in collaboration with the Wilaya of Agadir, the regional tourism board, the Moroccan National Tourist Office and the French Triathlon Federation, was raised for its third edition by an African Triathlon Championship.
Swimming (1 500m), cycling (40km) and 10km running are events that furnished this triathlon Agadir.
Tournament host, Morocco was hoisted on the highest step of the podium in the junior men with the coronation of Younes Kouzkouz (01: 01: 20) in front of a South African duo Eddie Van Heerden and Gareth Jooste, reports MAP. In the women's draw always in the less than 19 years, the Zimbabwean Laurelle Brown depriving the South Africans (Charne Prinsloo and Rbin-Leigh Jones) of the first place.
The rainbow nation raided the medals of the elite category (men and women), as well as in the Paralympic. The team of Mauritius, in the men's draw, and that of Zimbabwe in the women's draw, dominated the category of the less than 15 years.