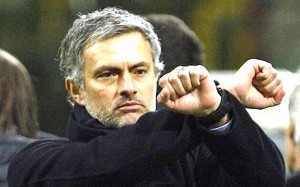 The transfer of Jose Mourinho is not yet done but The "Special One" has already checked the names of the new comers to Chelsea for the next season.
According to Daily Mirror, six players are in the small paper of the former Chelsea coach who finds the Stamforbridge. This is Hulk (Zenit St Petersburg), Radamel Falcao announced this Monday in Monaco (Atletico Madrid)), Eliquim Mangala (FC Porto), Isco (FC Malga), Marouane Fellaini (Everton FC) and Andre Schurrle (Bayer Leverkusen ).
The central defender of Porto, the Franco-Congolese Eliquim Magala will honor his first meeting among the Blues for the South American tour.
Return on loan of Thibault Courtois should be done after spending a season at Atletico Madrid. The French goalkeeper should be loaned again, this time at a club in the Premier League for the latter to learn the requirements of the English league