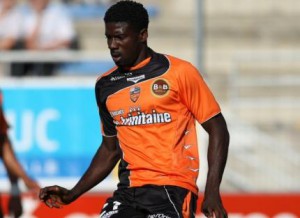 After a season of fiscal restraint, OM should also animate the summer transfer window. The vice-champion of France wants to strengthen its various areas of game. So is announced the likely arrival of the Lorient defender Bruno Ecouele Manga.
Observed by the OM sporting director Jose Anigo, the Gabonese Bruno Ecuele Manga could be part of the new faces at the Robert Louis-Dreyfus training center at the recovery. "Of course Bruno Ecuele Manga's folder interested OM, said the agent of the Gabonese Yvan Le Mee on Téléfoot. But it is a big financial investment "
As a result, the transfer of Ecuele Manga could be effective only if the pillar of the Marseille defense, Nicolas Nkoulou gets transferred "While Nicolas N'Koulou has not gone, says Yvan Le Mee, I 'm not sure they go for a very important player in the central defense, "said the agent of the Gabonese international.
In the viewfinder of Barcelona, AC Milan and Chelsea among others, Nicolas Nkoulou concluded the 2012-2013 League 1 season on record.