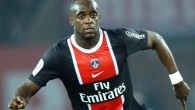 Fiorentina will hinder the purchase option of Mohamed Sissoko. Lent this winter by PSG to Viola, the midfielder will not be retained by the club in Florence says sports365.
Author of only five appearances in Serie A with the Florentine club since his return to Italy, the former Juventus player has, obviously not convinced the coach Vincenzo Montella.
The Malian international returns thus to Paris Saint-Germain. In a recent interview, Momo Sissoko had given his commitment to the Paris training. He has a year contract remaining to hope to establish with time being with the new champion of French Ligue 1.