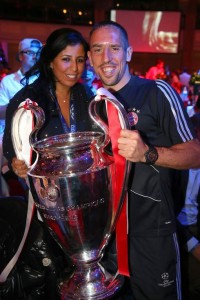 Winner of Saturday's Champions League with Bayern Munich, Franck Ribery is still on his cloud. So much so that the French international says having slept with the C1 trophy and his wife on the night of Sunday.
"We have waited so long to win this competition. We partied until six in the morning. At that time, I was going to bed. I took the opportunity to take the trophy with me. So, I fell asleep with my wife and the Cup, "said Franck Ribery in Bild.
If his wife survived the Zahia scandal, no doubt that the couple Ribery will not waver for a Cup.
Bayern Munich returned Sunday to present the trophy to their fans.