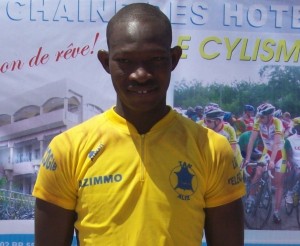 For the second time, Rasmané Ouedraogo from Burkina Faso won the Grand Prix de l'Impossible. The most grueling cycling competition of the African continent was in its fourth edition on 24 and 25 May. Ouedraogo has completed the 421 700 km in 14h 35min 27sec whether a race average of 28.901 km / h. He beats his fellow Salfo Bikienga (2nd) and Abdul Aziz Nikiéma (3rd).
Rasmané Ouedraogo won a trophy, a computer, a motorcycle and $ 1 million FCFA.
Riders from seven countries including Burkina Faso, Benin, Senegal, Cote d'Ivoire, Togo, Mali and Niger took part in the competition.