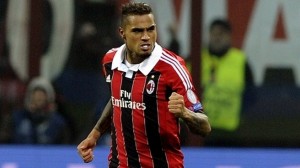 According to the website Calciomercato.com, Monaco, big-Spending a Few Days on the transfer market, has a new target in sight.
It is the Ghanaian Kevin-Prince Boateng. The AC Milan midfielder could soon be the subject of an offer of 15 million Euros from the club of the Principality.
After validation transfers Moutinho, Rodriguez and Carvalho Tuesday, Monaco could therefore hit another blow. Meanwhile, Falcao and Victor Valdes are announced for the formalization of their transfer on Friday.