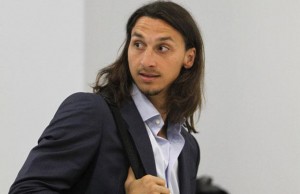 Will Zlatan Ibrahimovic remain at PSG next season?
The question needs to be asked. A few days ago the Swedish through the micro of Téléfoot on TF1 had left guessings about his future in the capital club.
At the dawn of summer transfer window and with the departure of coach Ancelotti, rumors of a possible departure of Ibrahimovic are constantly flowing. In addition, a Swedish newspaper seems to confirm those rumors that.
To believe the Swedish daily Expressen, Ibrahimovic has the desire to leave PSG, not for sporting reasons, but for family reasons. According to the newspaper, the striker and his wife would not be happy in Paris.
The local newspaper said that the former Milan player has faced a problem of security and social climate weighing. The companion of the top scorer in Ligue 1 this season was assaulted last summer in Paris so she would not feel very well in the City of Light. The problem of acclimatization, and even safety, might as well push the small family to pack elsewhere.
The Swedish giant would be inclined to leave for Italy and specifically to Juventus. Under contract with Paris until June 2015, Ibra would even be willing to revise his salary expectations downward to maximize his chances of returning to the Calcio.