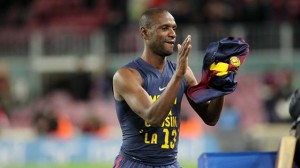 As Africa Top Sports has reported, the French international Eric Abidal at the end of the season in Barcelona on Friday announced his departure at a press conference.
The Martinique origin player and the audience were saddened by the news. One year after undergoing a liver transplant, Eric Abidal found the lawn in April.
"Abidal remains in our hearts and taught us about the essential things in life," said the boss of the Catalan club.
Very excited at the press conference, it is with tears in his eyes that the player originally from Martinique said thank you to the Catalan club where he spent six seasons:
"Thank you all, thank you to Barca for those wonderful years. I would like to say thank you to my teammates who have taught me a lot. Thank you to my family and the doctors of Barca. Thank you to the fans who gave me the love of Barca. You know, a team, for me, it's a second family. They helped me a lot; we lived together for six years. This is will memorable all my life. Trophies, all those friends I had during all these years. "
[youtube]http://www.youtube.com/watch?feature=player_embedded&v=K3tiyXPQv5U[/youtube]