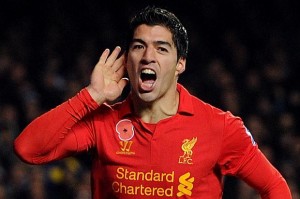 Neymar at Barca, Real Madrid will also strike a blow on the transfer market. If Gareth Bale is one of the main targets of the White House, the Spanish club could turn to a nugget. The very sulphureous Uruguayan striker of Liverpool Luis Suarez rekindles the lusts of Real Madrid and the player would not be against a departure from England. Especially since he no longer enjoys the treatment reserved to him by the British press.
"I love Liverpool, but I am not willing to continue to accept these criticisms. I work too hard to continue to listen to the criticism that I get in England. I have a contract with Liverpool. But it would be hard to say no to Real Madrid, "said Suarez. But his reputation of sulphureous player could brake the ardor of the Merengues leaders, eager to correct their image after the passage half fig half grape of Mourinho. Suarez is currently serving a 10-game penalty for biting Ivanovic of Chelsea.
With Cavani one of the tracks to replace Higuain on the departure in attack, Real Madrid could soon make an offer.