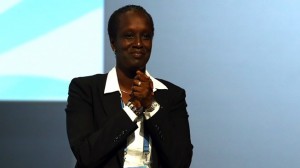 The 63rd General Assembly of the FIFA (ongoing) in Mauritius Islands consecrated Lydia Nsekera. The President of Burundi Football Federation (read her portrait) was elected on Friday to the FIFA Executive Committee with 95 votes.
She was elected for four years, while Moya Dodd (70 votes) and Sonia Beloved (38 votes) also joined the committee of FIFA as co-opted members for one year.
The election follows a proposal made by FIFA President Sepp Blatter, with the support of the current members of the Executive Committee of FIFA to have more women in decision-making positions in football.
Lydia Nsekera did last year in Budapest at the 62nd FIFA Congress a historic entrance to the Executive Committee of FIFA when she was co-opted as the first woman member of the Committee on an interim basis for a year. She thus becomes the 25th member of the Committee of FIFA.