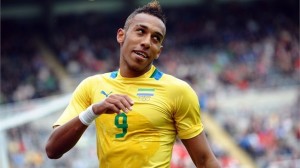 Things become clearer by the day about the possible destination of Pierre-Emerick Aubameyang. His goal is to play the C1 with his new team. Very courted, the Gabonese said having met Michael Laudrup Coach of Swansea (first English league). "I met Laudrup. They have a good project, but I need Champions League to progress, "said the striker of Saint-Etienne.
For now, only the Bayer Leverkusen made a concrete approach to the player. "I have already met twice Rudi Voller (sporting director of Leverkusen). The question is whether the two clubs will agree ", unveiled Aubameyang. The Panther confesses also to be fancied for over a year by Borussia Dortmund. It is clear, deals abound. PSG is also in the running.
Aubameyang has only one dream: to play at Real Madrid.