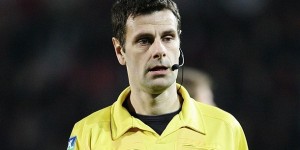 The threats are taken very seriously! Alexandre Castro, the referee pushed by the PSG sporting director Leonardo on May 5 after Paris SG-Valenciennes, received death threats on his mobile phone. And he complained Saturday at Lyon.
He is aged 42 years.
The following day, the disciplinary committee of the Professional Football League (LFP) has suspended Leonardo for nine months for this aggression in the locker room after the game of the 35th day of L1 PSG-Valenciennes.
We know that PSG has decided to appeal.
Mr. Patrick Anton, the lawyer of the referee has said to AFP: "He did well to complain because the interest is that he can seek for protection from the police, as he has children ".
To be continued.