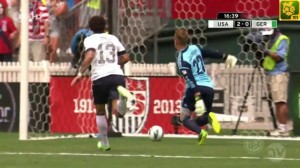 Germany really was not at the party Sunday in the friendly match against USA.
The Germans, extensively remodeled, was defeated 4-3.
It must be said that the substitute goalkeeper Marc der Stegen did not help his team.
On a pass from his defender, the goal of Borussia Möchengladbach let past the ball under his feet. He tried in vain to restore his blunder.
Watch:
[youtube]http://youtu.be/lJp00yeCEZo[/youtube]